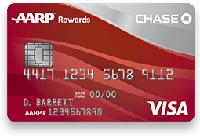 YMMV:
From January 15 – March 31, 2018, earn 3X Cash Back rewards when you use your AARP® Credit Card from Chase to pay eligible monthly bills like Internet, phone servicem cable, insurace and utlities.
Refer to the fine print for Internet, Cable, Phone Service, Utilities and Insurance category merchants.
https://www.mychasebonus.com/aarp22
If you have Chase Freedom, it already offers 5% on Internet, cable and phone bills in Q1 2018. But this bonus until March 31st, 2018 on the AARP card added Utilities and Insurance categories which is nice, considering the cold weather and timing any insurance policy renewals.