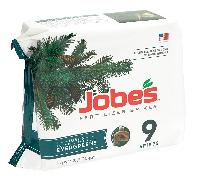 Jobe's Evergreen Fertilizer Spikes 11-3-4 Time Release Fertilizer for Juniper, Spruce, Cypress and All Other Evergreen Trees (9 Spikes)

$4.00 with prime shipping or $3.80 with Amazon Subscribe & Save

Product Link

If you are interested in the 9-spike Trees and Shrubs, Lowes has it for $4.88 (15-3-3)

These have worked well for me. Stocked up on some more now.
If you are going to use a lot of these I'd recommend attaching something like thi s to your drill, which makes the process much quicker. There are probably cheaper augers out there, but that's the one I have.