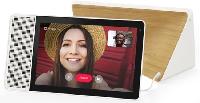 Best buy has the Lenovo – 10" Smart Display with Google Assistant – White Front/Bamboo Back for sale at $159.
This isn't the lowest price it has been this season. Costco had a members only price of $149, and Rakuten had it for $144. But for those who missed out on those deals, this comes close enough.
If you have access to Samsung Pay, they have a 5% cash back deal on Best Buy purchases which will bring the price down to $152+taxes
Best Buy's eBay storefront also has the product for the same price. For those of us with eBay bucks, you can also buy from the ebay to get the price down even more
https://www.bestbuy.com/site/leno…Id=6267024
https://www.ebay.com/itm/Lenovo-10-Smart-Display-with-Google-Assistant-White-Front-Bamboo-Back/192738595141??
I got one of these and am very happy with my purchase.