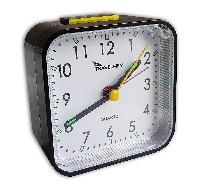 Travel Alarm Clock – No Bells, No Whistles, Battery Operated, Alarm, Snooze, Light, Black
Save 50% off coupon: ANALOG50
WHILST MOST TRAVEL CLOCKS on the market make a constant ticking sound and have very cumbersome controls, our customers told us they need a silent clock, and one that is easy to switch on/off the alarm. So, we listened, and redesigned the generic model based on two years customer feedback.
ALARM AND SNOOZE – The alarm is loud and rings until turned off. The snooze allows the alarm to ring every 5 minutes until switched off. You will never sleep through the Travelwey Alarm Clock!
LUMINOUS HANDS PLUS LIGHT ON DEMAND – If the analog clock is exposed to strong sunlight during the day the luminous hands and digits will glow in darkness for up to 4 hours. For longer periods, just a quick tap on the clocks top button and the full clock face will illuminate.