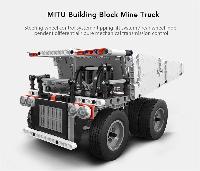 GearVita has the Xiaomi MiTU Puzzle Buulding Block Mine truck on sale for $29.49 after coupon. That is almost half off, including free shipping. This is comperable to a Lego Technic set, with tilt features, steering, and more.
https://gearvita.com/xiaomi-mitu-…truck.html
Use coupon code: XmasBlock
Product Description
Xiaomi MiTU Building Blocks Mining Truck
? As far as possible to restore the shape and transmission structure of the truck.
? The splicing process is not only the training of patience, but also the inspiration to the imagination.
? Clever directional control system, control the direction of the car at will.
? Imitates the loading and unloading system of real car.
? Six large rubber tires, suitable for all kinds of terrain.
? Accord with the national 3C serious standard, can be assured to let the children play.
? Recommended age: over 6 years old.