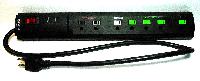 Link is to store locator- deal is B&M only. It is NOT on their website.
https://www.dollartree.com/store-locator
I found this at a Dollar Tree in NJ at the checkout counter. There are two "always on" outlets and one master that controls 4 others. When there is no power going to the master, the other 4 are shut off. Many modern TVs still draw power when turned off, which may be a good or bad thing for you.